Spotlight on Spinal Cord Injury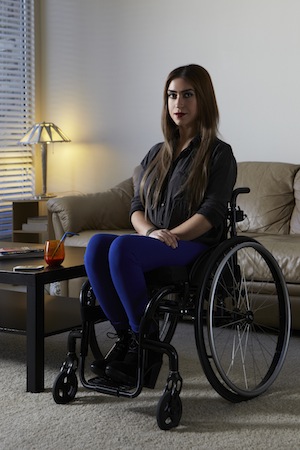 Katie Sharify
San Diego, CA
Katie Sharify wasn't quite sure what a stem cell was, but as she slowly regained consciousness after a devastating auto accident in November 2011, her parents wanted to talk to her about stem cells and an experiment that might fix her. 
What needed fixing was her spinal cord. It was critically damaged in the early morning accident, paralyzing her from the chest down. But as Katie recovered, she realized her parents had misunderstood what the doctors had told them. The stem cell treatment would be no cure. Instead it was an early stage clinical trial, an experiment to see if the therapy could be administered safely to people with injuries like hers.
In the barest of terms, there was nothing in it for her.
Disappointed, Katie struggled with whether to say no to the trial or to participate anyway so that, someday, a treatment might result. She had just six days to decide. On Nov. 16, 2011, she became the fifth patient to receive embryonic stem cells for spinal injury in a CIRM-supported clinical trial.
"I knew that I wanted to do it for others," Katie said. 
"What I came to terms with is that I made the right choice. I think about what I'm fighting for, and that sort of keeps me going forward."