In Utero Hematopoietic Stem Cell Transplantation For The Treatment Of Fetuses With Alpha Thalassemia Major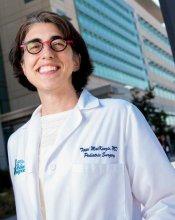 Tippi MacKenzie
Disease Area:
Fetal Alpha Thalassemia Major
Details:
Untreated alpha thalassemia major is almost universally fatal in utero.  Current treatment requires in utero blood transfusions and monthly blood transfusions for life or a bone marrow transplant if a suitable donor is identified. The proposed treatment is a maternal bone marrow transplant in utero that takes advantage of maternal-fetal immune tolerance, and may provide a definitive cure. 
Design:
Single arm, non-randomised study.
Goal:
Safety and feasibility, efficacy.
Status:
Patient recruitment initiating.